DC CURRENT, VOLTAGE AND TEMPERATURE SENSORS (IVT SERIES)
---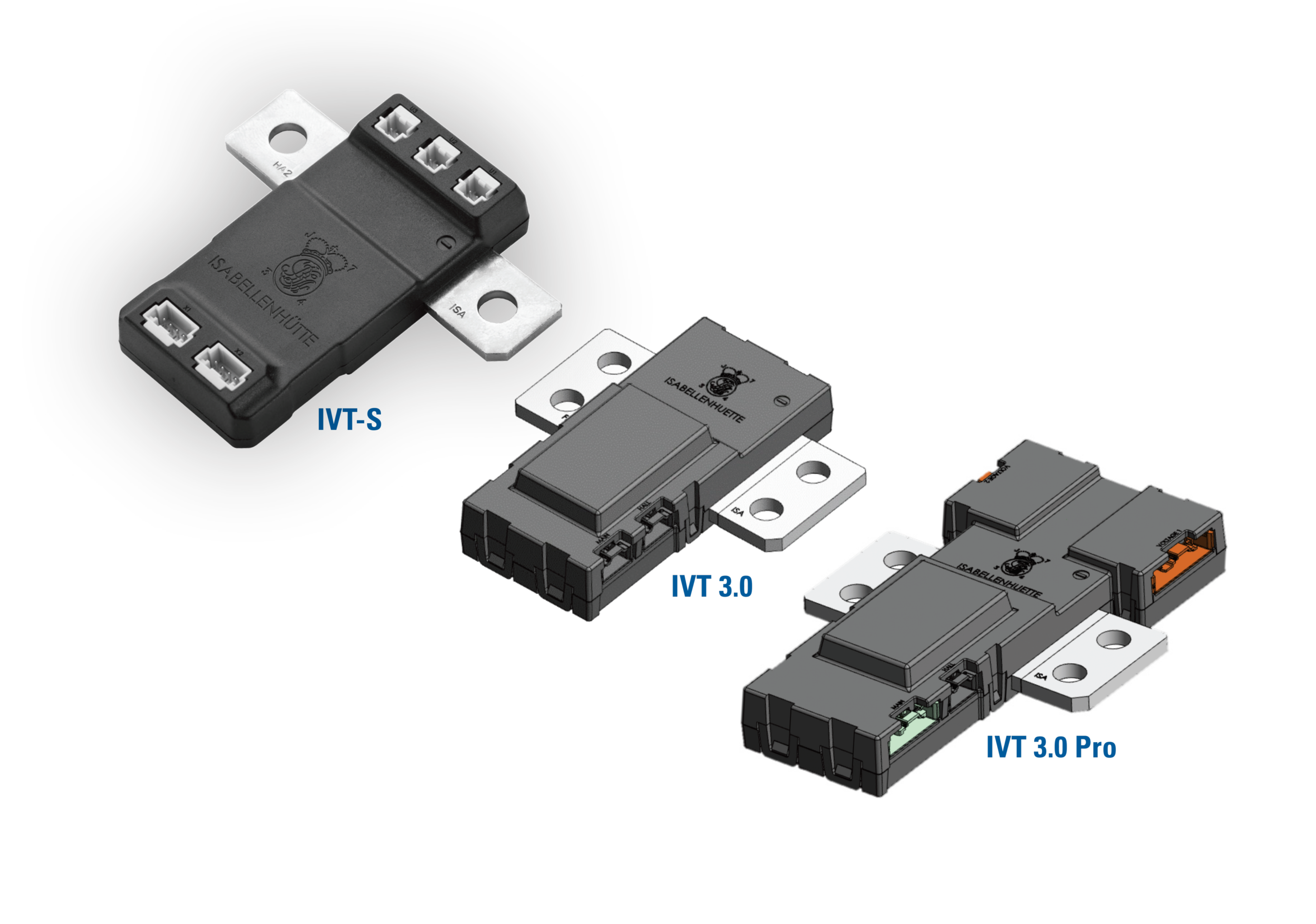 IVT-S
Three measurements from a single sensor! Intelligent, digital current, voltage and temperature sensors for battery management systems (BMS). Full temperature compensation and calibration over the lifetime of the component. Galvanic isolation 1000V(DC). Amperage and coulomb counter. Automotive-qualified. Extensive error detection/diagnostic features.
Option for up to three high-voltage measurement channels

Monitor battery stack voltage
Monitor Intermediate circuit voltage
Monitor Relay functions
Customer-configurable parameters:

Enable, disable, or trigger sensing channels
Set cycle times
Set overcurrent thresholds
Other parameters: e.g. set CAN IDs for result messages, etc.
Characteristics of the IVT-Series

Selectable current measurement ranges 100, 300, 500, 1,000 and 2,500A

Internally verified current measurement
CANbus 2.0 interface
Can be used on the high or low side of the battery
OC range up to 48kA
NEW! – IVT 3 Base / IVT 3 Pro – The next generation in sensing
A new level of compact high-precision smart sensing, built on a platform
that allows the custom addition of functional components to suit many different use cases. The Pro version supports insulation resistance monitoring and 3 or 6 voltage measurement channels. The IVT 3 Series is developed according to ISO 26262:2018 and is ASIL-rated for EV/automotive applications.
Sample applications include:
Hybrid and full electric vehicle drives
Stationary energy storage systems
Uninterruptable power supply (UPS) systems
Battery and storage-based applications
Industrial Applications
Product highlights:
Highly accurate shunt-based current measuring system with active temperature compensation over lifetime
3 or 6 voltage measurement channels (PRO version)
Active insulation monitoring (PRO version)
ASIL C on current sensing
ASIL B on voltage sensing and insulation monitoring
Secondary analog current sensing channel (optional)
Nominal current measurement range = ±1.000A
Extended measurement range: 4000A
Initial Accuracy = 0,1 % of rdg. + 0,05% of range at room temperature
Total Accuracy = 0,4 % of rdg. + .1 A of range (over whole temperature range -40°C up to 125°C)
Galvanic insulation 1.000V
CAN 2.0B
Temperature measurement
Supply voltage 12V-24V
| Model | Nominal sensing range (A) | OC Range (A) | Max Load 200ms (A) | CAN Termination | Voltage Sensing Channels | Supply Voltage | Product Details |
| --- | --- | --- | --- | --- | --- | --- | --- |
| IVT-S-100-U0-I-CAN1-12/24 | ±100 | ±800 | ±2000 | yes | – | 12V-24V | View More |
| IVT-S-100-U0-I-CAN2-12/24 | ±100 | ±800 | ±2000 | no | – | 12V-24V | View More |
| IVT-S-100-U3-I-CAN1-12/24 | ±100 | ±800 | ±2000 | yes | 3 | 12V-24V | View More |
| IVT-S-100-U3-I-CAN2-12/24 | ±100 | ±800 | ±2000 | no | 3 | 12V-24V | View More |
| IVT-S-300-U0-I-CAN1-12/24 | ±300 | ±2500 | ±3600 | yes | – | 12V-24V | View More |
| IVT-S-300-U0-I-CAN2-12/24 | ±300 | ±2500 | ±3600 | no | – | 12V-24V | View More |
| IVT-S-300-U3-I-CAN1-12/24 | ±300 | ±2500 | ±3600 | yes | 3 | 12V-24V | View More |
| IVT-S-300-U3-I-CAN2-12/24 | ±300 | ±2500 | ±3600 | no | 3 | 12V-24V | View More |
| IVT-S-500-U0-I-CAN1-12/24 | ±500 | ±6900 | ±6000 | yes | – | 12V-24V | View More |
| IVT-S-500-U0-I-CAN2-12/24 | ±500 | ±6900 | ±6000 | no | – | 12V-24V | View More |
| IVT-S-500-U3-I-CAN1-12/24 | ±500 | ±6900 | ±6000 | yes | 3 | 12V-24V | View More |
| IVT-S-500-U3-I-CAN2-12/24 | ±500 | ±6900 | ±6000 | no | 3 | 12V-24V | View More |
| IVT-S-1K-U0-I-CAN1-12/24 | ±1000 | ±12200 | ±12000 | yes | – | 12V-24V | View More |
| IVT-S-1K-U0-I-CAN2-12/24 | ±1000 | ±12200 | ±12000 | no | – | 12V-24V | View More |
| IVT-S-1K-U3-I-CAN1-12/24 | ±1000 | ±12200 | ±12000 | yes | 3 | 12V-24V | View More |
| IVT-S-1K-U3-I-CAN2-12/24 | ±1000 | ±12200 | ±12000 | no | 3 | 12V-24V | View More |
| IVT-S-2K5-U0-I-CAN1-12/24 | ±2500 | ±48000 | ±24000 | yes | – | 12V-24V | View More |
| IVT-S-2K5-U0-I-CAN2-12/24 | ±2500 | ±48000 | ±24000 | no | – | 12V-24V | View More |
| IVT-S-2K5-U3-I-CAN1-12/24 | ±2500 | ±48000 | ±24000 | yes | 3 | 12V-24V | View More |
| IVT-S-2K5-U3-I-CAN2-12/24 | ±2500 | ±48000 | ±24000 | no | 3 | 12V-24V | View More |
| IVT-3-1K-U0-I-CAN1-12 | ±1000 | ±4000 | ±12000 | yes | – | 12V | View More |
| IVT-3-1K-U0-I-CAN2-12 | ±1000 | ±4000 | ±12000 | no | – | 12V | View More |